A How-To on HDR images – easy to understand for your first steps!
What are HDR Images?"
HDR ("high dynamic range") describes a photographing technique where a series of images with the exact same motif are put together to a single image. The single images are done with a different level of exposure each time – to put it in an easy way: one of the three images of the HDR is taken with normal, one with higher, one with lower exposure. Because of this, each picture includes different information: On the image with higher exposure, you can see details in darker areas of the motif. On the one with lower exposure, you see more details of the sky for example. Because of this, a HDR image is something like "Best of both worlds", combining the positive aspects of different exposure levels – so far for the theory.
Can I do HDR images as well?
Many of today's cameras have the "exposure bracketing" functionality, where the camera automatically takes multiple images in a quick sequence with different exposures. Of course you will need a tripod to take HDR images, as the motif needs to be exactly the same during the different exposures. The camera should not be moved throughout the process. If you don't have a tripod on your travel – a wall, tree or rock will also do the trick.
How do I create a HDR image out of these?
For this next step to create a HDR image you need the help of a computer program: I recommend working with a professional program like Photomatix Pro. From my experience there's no perfect tool. Some tools have a very complex user interface, or lack certain features you might miss. You should give the free ones a try, maybe one fits to your needs perfectly. Keep in mind though that most of them need a lot of CPU power.
After combining the images with different exposure, you can play around with many parameters to adjust the HDR image to your liking. Here's where the difficult part kicks in: many photographs just overload their images with effects.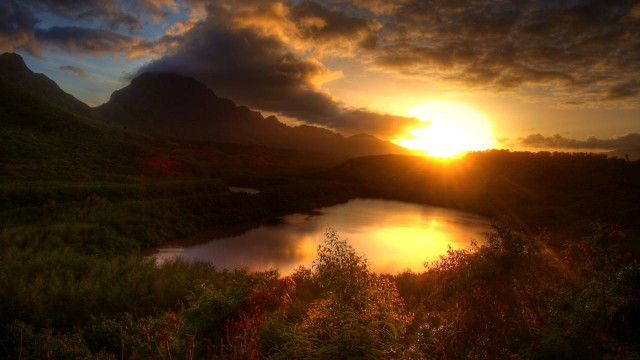 Why are HDR images so artificial?
It's easy: as stated before, some photographs just overload their HDR images with effects. Of course this can be very beautiful as well, but can attract criticism of other photographers. I often overdo it as well, but see it as fun to try things out. Sometimes you can create great atmospheric HDR images, even with a "magical" fantasy touch to them.
Naturally, a HDR image makes most sense in areas with a wide array of exposure levels. Churches are a great example: While they are often dark inside, the church windows are very bright spots on each image. With normal images you cannot get the details of the inside of the church, and the colored windows on one image. A HDR image can combine both worlds and get you details in each part of the photograph.
Good HDR Books:
If you want to know more about HDR images, I recommend the following books:
1. The HDR Book: Unlocking the Pros' hottest Post-Processing Techniques
2. Creating HDR Photos: The Complete Guide to High Dynamic Range Photography
Conclusion:
Whether you like them or not, HDR images are very fun and easy to do! They're also a nice thing to impress your friends with, because they always look kind of special. You can use HDR images two ways: either you create "fantasy" images with great atmospheres, or you use them to just enhance photographic situations that can't be solved with regular photos. Always keep in mind though: if your motif is bad, then a HDR will look bad as well.
As you see on my travel photography website, I like to do HDR images all the time. Some of them natural, some of them way more flashy. For examples of my HDR images, check out my Grand Canyon Photos, my Luxembourg Photos or my Antelope Canyon Photos. Have a look and decide what you like best!